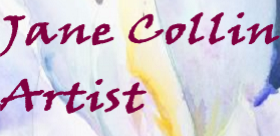 "Imagination is more important than knowledge." Albert Einstein



All sizes listed are image size.

I am intrigued by capturing the sunlight on a sleeping girl, the deep lines on a face of wisdom, or the mysterious look of a young woman. I want the viewer to see a range of emotions in this series of work. I hope you are a bit curious about what is happening and what the person is feeling. Enjoy my expressions rendered in water media.

Please contact me at janecollin@comcast.net for pricing information.